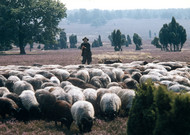 Lüneburg Heath is a rich natural and cultivated landscape between the Elbe, Aller and Weser rivers and the cities of Bremen, Braunschweig, Hamburg and Hannover. The varied countryside features glacial valleys, moraines, morainic plains, heathland, moors and wooded areas. "Lüneburg Heath has four high seasons: it blooms but once a year" - wrote the famous heathland poet Herman Löns, who is buried in the Tietlingen juniper grove between Walsrode and Fallingbostel.
The countryside here is no longer dominated by the typical heathland, as forestation and agricultural activities have taken their effect. However, the landscape has retained many of its original features - heather, clusters of juniper trees, beech-lined paths in protected areas. Old traditions such as rearing heathland sheep and beekeeping are still practised up in the higher areas.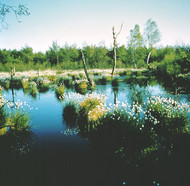 Protected sections of heathland can be found in the Lüneburg Heath nature conservation area, South Heath nature reserve, Elbe-Darwehn nature reserve, and the area around Uelzen and Gifhorn. One of the region's most magnificent annual highlights is the heather, which blossoms during the months of August and September, covering the countryside with a carpet of pink and violet flowers. Heather enthusiasts come in their thousands to visit the heather festivals and parades, and to watch the Heather Queen being crowned.
However, Lüneburg Heath has more to offer than just the pink glow of heather blossom. Other typical features include villages with traditional farms, watermills and windmills, country estates and small towns with magnificent town halls, as well as traditional songs and costume, now rarely seen. Today, in the nature conservation area around Wilsede Hill, the highest point in the region at 169 metres, you'll see around two thousand Heathland sheep grazing along with their lambs.