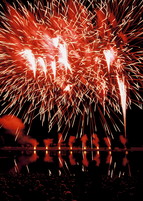 When 2,000 red Bengal lights bathe the famous sights of the Rhine and the riverside promenades between Bonn and Linz in a festive glow on the first Saturday in May, the illusion of the "Rhine in Flames" is created.
Fireworks on the Rhine
On land or on board one of the 60 cruise boats, the spectacular firework event in Linz, Remagen, Bad Honnef and Bonn captivates tens of thousands of people every year. The Rhine is transformed by a frenzy of fireworks, and there is also a kaleidoscopic programme of entertainment and other events. Come along and experience the spectacle for yourself!