Places of interest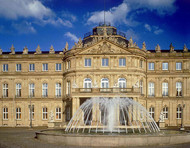 A stroll through Stuttgart's city centre is like taking a journey back through the history of architecture, with masterpieces such as the medieval Old Palace, the baroque New Palace, the beautiful Art Nouveau market hall and the Bauhaus-style Weissenhof housing estate giving the city its distinctive feel.
The medieval Old Palace and the baroque New Palace
Today the Old Palace stands on the site where Duke Luitolf of Swabia once grazed his horses - the name Stuttgart and the city's coat of arms come from the old German word
Stutengarten
meaning a stud. With its cloistered courtyard, the palace reflects the splendour of the former ducal town. Nowadays it is home to the Württemberg State Museum. Just a stone's throw away is the magnificent baroque building of the New Palace. Schlossplatz square with its 30 metre high column is the heart of the city and a popular meeting place.
Weissenhof housing estate
The Weissenhof housing estate, one of the most important examples of modernist architecture, was built in 1927. The leading architects of the time submitted their plans for model homes, built in the Bauhaus and Neues Bauen tradition, to be shown at the German Work Federation exhibition in Stuttgart .Eleven show homes built for the exhibition are still in existence and still occupied.
Art Nouveau Market Hall
One of the most attractive market halls in Germany, it was built as a food market and warehouse between 1912 and 1914 on the site of the old vegetable market hall. Every day, fresh flowers, fish, meat, vegetables and fruit, exotic produce and spices are on sale. There is a small restaurant on the first floor and a gallery from where there is a good view of the hustle and bustle of the market.
Top of page
Map of Germany
Map showing all of Germany's TOP travel destinations...
Click here!
Search in surrounding area