Shopping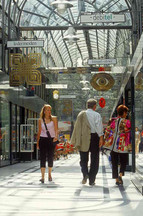 Königstrasse is lined with large department stores and elegant shops selling specialist goods and international designer labels. In the market square at the heart of the city there is Breuninger, a luxury department store, and the wonderful
art nouveau
market hall, which are both good places for picking up something special. For bargain hunters, Hugo Boss has a factory outlet store in Metzingen, 34 kilometres from Stuttgart.
Königstrasse and Schulstrasse
The city-centre shopping area with department stores, specialist outlets, cafés and places to relax. Street performers from all over the world provide entertainment in this pedestrian precinct which is more than 1km long. Schulstrasse, which became Germany's first pedestrian precinct in 1953, links Königstrasse with the market square and is lined with a variety of fashion shops and eating places.
Calwer Strasse/Passage
Behind the pretty façades of the gabled buildings and historical timber-framed houses are exquisite shops, mainly selling chic fashion wear, jewellery and leather goods - irresistible for browsing and treating yourself.
The Bohnenviertel district
It may not be apparent to outsiders, but the old town, although right next to the market square, is separated by a multi-lane main road from the lively district "on the other side". Nevertheless, there are some surprising discoveries to be made in the Bohnenviertel district such as wine taverns, international restaurants and countless tiny shops, lots selling unusual wares from around the world.
Top of page
Map of Germany
Map showing all of Germany's TOP travel destinations...
Click here!
Search in surrounding area