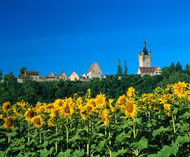 With their wealth of natural and cultural attractions, both regions offer plenty of things for visitors to see and do. Hidden ponds, crystal-clear streams and dense mature forests are all typical features of the countryside in the Neckar-Hohenlohe-Swabian Forest area. The picturesque scenery encouraged knights and princes to leave their mark here in the shape of many castles and palaces.
A visit to the delightful Langenburg Castle with its car museum or Neuenstein Castle with its completely preserved medieval kitchen is an absolute must. Or you can learn about the fascinating history of the knight Götz von Berlichingen at Götzenburg Castle in Jagsthausen. At one time, there were seventy Roman sites along the Limes in the Swabian Forest. The Roman fort (Ostkastell) in Welzheim (150-260 A.D.) has been reconstructed and is now an open-air museum.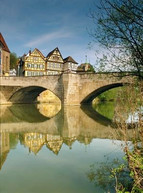 The idyllic countryside between the Jagst and Kocher rivers provides the setting for an interesting 350-km cycling circuit. There are a number of castles and palaces to visit in the Hohenlohe region. In the summer months, they provide an atmospheric historical backdrop for a number of open-air plays and concerts. The Hohenlohe dynasty certainly left its mark on the region.
Today, many of the historically important stately homes house interesting museums. The ancient towns with their pretty half-timbered houses are often still enclosed by town walls. The region's artistic heritage is reflected in the collections of priceless artefacts at a host of castles and palaces. With steep vineyard slopes, deep valleys, large orchards, forests and rolling hills, a trip to this region is guaranteed to be a memorable experience.