Suggested excursions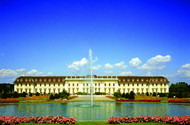 The countryside in the region around Stuttgart is delightfully diverse and excellent for walking and cycling. The Swabian forest or the three Kaiserberg hills are good regions to explore. Excursions to the former ducal town of Ludwigsburg with its baroque palace, the medieval town of Esslingen and the popular university town of Tübingen are also recommended.
Ludwigsburg
The town's famous landmark and centrepiece is the magnificent baroque royal palace - venue for the Ludwigsburg Castle Palace Festival held in summer. The 'Favorite' summer residence and hunting lodge and Monrepos Lakeside Palace are close by. The Baroque in Bloom garden show in the palace grounds with its "fairy tale garden" is delightful. The town itself is associated with the poet Möricke and Friedrich Schiller.
Esslingen am Neckar
Nestling in the Neckar Valley with vineyards on every side, the former free imperial town of Esslingen is dominated by Hochwacht Castle. The town has a history stretching back more than 1,200 years, but it is racing into the 21st century. It boasts Germany's oldest row of half-timbered houses and in summer visitors can see the sights of the town from the romantic Neckar canals.
University town of Tübingen
Steep stone steps, narrow alleyways and pointed gables are the hallmarks of Tübing's old quarter leading up to Hohentübingen Castle. This Swabian university town combines the feel of a lovingly restored medieval town centre with the vibrancy of a youthful student town.
Top of page
Map of Germany
Map showing all of Germany's TOP travel destinations...
Click here!
Search in surrounding area