Nature & greenery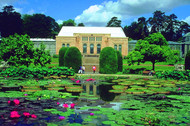 Parks and lakes, forests, fields, orchards and vineyards cover more than half the area within Stuttgart's city boundaries. The majestic Palace Gardens around the New Palace and the Wilhelma zoological and botanical gardens are both delightful.
The Palace Gardens
The Palace Gardens extend right up to the back of the Art Building on Schlossplatz square. Beautifully designed ponds, sculptures and borders create an oasis of calm. In summer the gardens are popular with sunbathers.
Wilhelma zoological and botanical gardens
A visit to the Wilhelma zoological and botanical gardens is fun for all the family. Located in a spacious historical park, they boast Moorish buildings, beautiful garden areas, glasshouses, animal houses and enclosures as well as an aquarium. Wilhelma gardens are famous for their apes enclosure where the animals live in a tribe of families.
The "Green U"
This is a chain of green spaces within the city centre, linked in the shape of a letter U by walkways and bridges, which extends from the Palace Gardens via the Wilhelma gardens to Killesberg quarry. The various parks and gardens are ideal for relaxing in, or you can walk the whole of its eight kilometre length without ever leaving the greenery.
Top of page
Map of Germany
Map showing all of Germany's TOP travel destinations...
Click here!
Search in surrounding area