Places of interest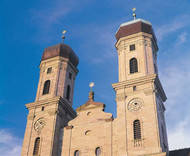 With its twin 55-metre domed towers made from Rorschach sandstone, the Palace Church (
Schlosskirche
) is the town's famous landmark and can be seen from far out across the lake. The Zeppelin Museum is a highlight of any trip to Friedrichstadt. Just like the old Zeppelins, the new museum has played a major part in putting the town of Friedrichshafen on the map.
Baroque palace church and palace
With its twin 55-metre domed towers of Rorschach sandstone, the Palace Church (
Schlosskirche
) is the town's famous landmark. The palace was originally built as a priory for the Benedictines of Weingarten in 1654 by the Austrian Michael Beer.
Jetty tower (Moleturm)
The lookout tower dominates the harbour entrance at the harbour jetty. A steel staircase winds up six floors to a viewing platform 22 metres above the jetty. From the top there are amazing panoramic views over the town, Lake Constance and the Swiss and Austrian Alps.
Zeppelin fountain and Zeppelin statue
Miraculously, the fountain remained almost unharmed during the war years while much of the town was destroyed. Not far from the Zeppelin fountain, in the town park, is the statue of the Count. It was created by sculptor Professor Toni Schneider-Manzell who originally came from Friedrichshafen-Manzell and later settled in Salzburg.
Top of page
Map of Germany
Map showing all of Germany's TOP travel destinations...
Click here!
Hotels in Friedrichshafen
Search in surrounding area