Museums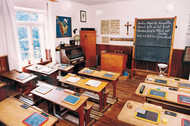 The "Zeppelin Museum of Technology and Art" is the largest airship museum in the world. The School Museum shows the fascinating development in the history of education from the medieval monastery school to classrooms through the ages.
Zeppelin Museum
The world's largest collection relating to the history and technology of aviation (from its beginnings to the Zeppelin NT) is on display in around 4,000m² of exhibition space at the Zeppelin Museum in Friedrichshafen on Lake Constance. Here visitors can experience the vast scale and sheer charisma of these "giants of the skies". The main attraction is a walk-through reconstruction of a 33 metre section of the LZ 129 "Hindenburg" Zeppelin. The exhibition has a number of themes: forerunners, construction types, physical principles, take-off and landing, airship design and construction, engines, gondolas and aerodynamics, navigation and radio technology and the civilian and military history of airships. Guided tours available. Audio guide in several languages. Closed on Mondays except in July, August and September. Closed on 24, 25 and 31 December.
»
www.zeppelin-museum.de
School Museum
The school museum near Friedrichshafen train station opened in 1980. Its visitors are greeted in appropriate style by the sound of the school bell to remind them of their own school days. The museum documents different periods in the history of schools over the past 1,000 years. Starting with monastery and charitable schools the exhibition concludes with items used in today's schools such as modern teaching materials and learning aids. The main attractions are authentic reconstructions of classrooms with the desks and slate blackboards typical of 1840, 1900 and 1930, a punishment room and genuine enlarged photos showing unusual school scenes. School days during the Third Reich are also included. Open every day, closed on Mondays from November to March.
»
www.schulmuseum-fn.de
Top of page
Map of Germany
Map showing all of Germany's TOP travel destinations...
Click here!
Hotels in Friedrichshafen
Search in surrounding area