Art & culture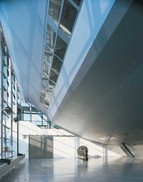 The top floor of the Zeppelin Museum contains an extensive exhibition on the art of the Lake Constance area from the Middle Ages to the present day. In the
Kunstverein
gallery there are regular exhibitions by up-and-coming new artists and well as those who have already achieved national or international renown.
Art exhibition in the Zeppelin Museum
The art collection includes works from the Middle Ages to the present day. It contains a large collection of works by Otto Dix, Max Ackermann, Karl Caspar and Maria Caspar-Filser. Works from the graphics collection are displayed in temporary exhibitions in the graphics section on the second floor.
Kunstverein (art association)
As an exhibition venue, the
Kunstverein
aims to stimulate discussion of the various styles and genres of contemporary art. The art association organises six exhibitions of young artists' work each year, plus a major exhibition with nationally and internationally renowned artists.
Top of page
Map of Germany
Map showing all of Germany's TOP travel destinations...
Click here!
Hotels in Friedrichshafen
Search in surrounding area