Exhibition centres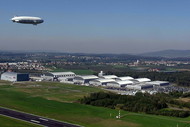 The recently built Exhibition Centre in Friedrichshafen is situated in the north of the town facing the airport and the Zeppelin hangar. The lake integrated into the inner courtyard, the state-of-the-art facilities and a compact, rapid-access layout make it a particularly appealing trade fair location. "Graf-Zeppelin-Haus" is widely regarded as one of the most modern and elegant conference centres in Germany.
Friedrichshafen Exhibition Centre
Friedrichshafen Exhibition Centre has ten halls with exhibition space of approximately 70,000m² and outdoor grounds with a further 12,000m² of space. On top of this there are conference rooms for up to 450 people and a 4,500m² exhibition lake that forms part of the demonstration area for water sport and leisure shows. The newly built exhibition hall A1 is the largest structure in the grounds, accommodating up to 10,500 visitors.
Contact:
Messe Friedrichshafen
Neue Messe 1
88046 Friedrichshafen
Email:
info@messe-fn.de
Website:
www.messe-friedrichshafen.de
Top of page
Map of Germany
Map showing all of Germany's TOP travel destinations...
Click here!
Hotels in Friedrichshafen
Search in surrounding area