Permanent exhibitions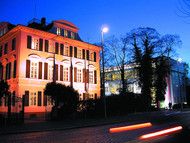 Frankfurt has many museums covering a broad range of themes, plus a large number of special exhibitions. The Film Museum traces the development of film, the Communications Museum reminds visitors how people used to communicate in bygone ages and the History Museum has ancient relics of Frankfurt life.
From the peep-hole camera to the Lumière cinematograph
A tour of the Film Museum's permanent exhibition starts with a look at how images can be presented and an exhibition of optical equipment from the pre-film era which was used to create visual effects and to deceive the eye. The second section is dedicated to 20th century film. How are films made, what methods are used, what artistic and technical factors influence film production? Numerous special exhibitions offer insights into various themes on the subject of film.
Communication through the ages
The 2,500 m2 Communications Museum exhibits the variety of communication methods that have been used in the past to tell stories and write history. The exhibitions are divided into sections: marks/writing/messages, letters and packages, telegraphy, telephone, radio, television and internet, and the exhibits show how people have lived and worked with communication media through the ages. Special exhibitions on the theme of communications complement the permanent exhibition.
"Frankfurt in the late Middle Ages. Church - Benefactor – Piety"
Anyone interested in the historical development of Frankfurt and the surrounding area should make time to visit the permanent exhibitions of the History Museum. The exhibitions begin with the period between 1400 and 1520 and continue through to the "16th to 18th century" section. There is also a children's museum.
Top of page
Map of Germany
Map showing all of Germany's TOP travel destinations...
Click here!
Search in surrounding area