Suggested excursions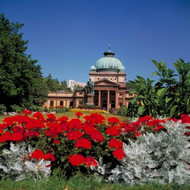 Saalburg near Bad Homburg is Europe's only restored Roman fort. Eberbach Abbey, a former Cistercian monastery in the nearby Rheingau, is Hessen's finest example of medieval architecture. Bad Homburg is an upmarket spa resort with an exclusive atmosphere.
Saalburg Roman fort
In Roman times, the Saalburg was a fort that guarded a section of the limes boundary wall in the Taunus hills. The first fortification on the Saalburg pass was built in around 83 AD. The only reconstructed Roman fort of its kind in the world is now home to a museum with an excellent educational programme and a wide range of events.
Eberbach Abbey
Eberbach Abbey is at the heart of the Rheingau, in a scenic valley away from noisy roads and busy towns, surrounded by woods and vineyards. The gates to the ancient abbey are open to visitors all year round. The abbey is also famous as the setting for the film "The Name of the Rose" with Sean Connery.
Bad Homburg
A celebrated health resort with palace and park offering numerous possibilities for an enjoyable day out. And when you've had enough sightseeing, the casino and the Taunus spa offer a pleasant diversion.
Top of page
Map of Germany
Map showing all of Germany's TOP travel destinations...
Click here!
Search in surrounding area