Shopping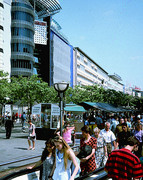 From the exclusive boutiques of Goethestrasse to the popular department stores on the Zeil and the upmarket shops on Schillerstrasse selling porcelain and household goods, Frankfurt has something for everyone. The shopping streets of the individual districts of Frankfurt are quieter, and this is where to go for junk shops selling odd items and curiosities. There is a flea market on the banks of the river Main every Saturday morning with all sorts of odds and ends, antiques and clothing.
The "Zeil"
The central shopping area at the heart of Frankfurt city centre is the Zeil, with the Zeilgalerie mall and various department stores. From upmarket designer goods to simple products, the range of clothing in particular is very extensive. Zeil is Germany's busiest shopping street - not just on Saturdays.
Goethestrasse and Fressgass'
Goethestrasse is where the top international designers have their shops. Exclusive stores offer discerning shoppers the finest of goods. Even window-shopping is something of an experience. And when you need a little fortification, you're just a few steps away from "Fressgass', the stretch of Grosse Bockenheimer Strasse between Opernplatz and Börsenstrasse which is also known as "gourmet paradise".
Bornheim, Bockenheim and Sachsenhausen
If expensive designer brands are not your thing, head for Bornheim, Bockenheim or Sachsenhausen. Berger Strasse, Leipziger Strasse and Schweizer Strasse have lots of little boutiques, second-hand stores and cafés where you can enjoy a stroll and a bit of shopping in a multicultural environment.
Top of page
Map of Germany
Map showing all of Germany's TOP travel destinations...
Click here!
Search in surrounding area