Museums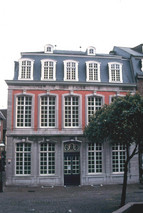 The high-quality collections of Aachen's museums paint a comprehensive picture of the development of art from antiquity via medieval sculpture to the present day. Temporary exhibitions and a varied programme of events provide lively access to modern-day culture.
Aachen Cathedral Treasury
When Charlemagne laid the foundation stone for a new architectural masterpiece at his main residence in Aachen in 786 AD, his dream was to create a "new Rome". The exquisite sacred art works on display in the cathedral treasury include the Cross of Lothair and the ancient Proserpina sarcophagus, which once contained Charlemagne's remains. The cathedral treasury is open every day except 1 Jan, Carnival, Good Friday, 24 Dec and 31 Dec. Guided tours by arrangement. Wheelchair access. Visits are not permitted during services and events.
»
Further information
The Couven Museum
Opened in 1958, the Couven Museum occupies more than 20 rooms in a typical Aachen rococo town house in the heart of the old quarter. It provides a fascinating insight into domestic middle-class life during the 18th and 19th centuries and is named after the eminent Aachen architect Johann Joseph Couven (1701-1763). The meticulously furnished rooms incorporate displays of period faience, exquisite porcelain and glass. Styles range from rococo, early classicism and Napoleonic Empire style to homely Biedermeier. There is also a fine collection of 18th century Aachen-Liège furniture. Closed on Mondays. Guided tours on request.
»
www.couven-museum.de
The International Newspaper Museum
The International Newspaper Museum, which was established in 1886 by Oskar von Forckenbeck, has been located in the "Great House of Aachen" since 1931. The museum holds a collection of more than 160,000 newspapers and other printed items and has a library of around 3,000 books dedicated to the study of newspapers. The permanent exhibition covers the history of newspapers all over the world, from the early days of the press to the present day. It pays special attention to newspapers from 1848/49, the 19th century Jewish press in Europe, German-language newspapers in North America from 1839 to 1930 and the press in the Third Reich and East Germany. Closed on Sundays and Mondays. Guided tours on request, also outside normal opening hours.
»
www.izm.de
Aachen Printen Museum
Visitors to the Printen Museum in the centre of Aachen can see how this traditional Aachen speciality is made. The Aachen Printe is a type of
lebkuchen
(gingerbread) or
honigkuchen
(honey cake) - a local culinary delight. A guided tour reveals the ingredients and recipes used to make Aachen Printen and demonstrates the current and traditional methods of preparing and processing the dough. Closed on Sundays.
»
www.printenmuseum.de
Suermondt Ludwig Museum
Villa Cassalette has been the home of the Suermondt Ludwig Museum in Aachen since 1901. A visit to the museum is like taking a journey of discovery into the world of pictures. It contains artwork from ancient times through to the present day, with late medieval paintings and sculptures, 17th century paintings, tapestries and goldsmith's work, as well as an extensive collection of stained glass dating from the Middle Ages through to the 20th century. The museum also has an Antiquities Collection, which mainly focuses on Attic vase paintings, an important collection of prints and drawings with 10,000 sketches, watercolours and drawings including masterpieces by artists such as Dürer, Rembrandt, Piranesi and de Goya, and an art library. Closed on Mondays. Guided tours on request.
»
www.suermondt-ludwig-museum.de
Art from North Rhine-Westphalia
A prestigious cross-section of six centuries of art in North Rhine-Westphalia is on show in the three central wings of the former imperial abbey of Aachen-Kornelimünster, a charming late-baroque setting with a stately ambience. The permanent exhibition - comprising around 200 works by international artists, a fraction of the museum's total collection of 3,000 works - has been offering insights into the development of art in North Rhine-Westphalia since 1976. The famous names represented here include Goller, Trier, Schumacher, Götz, Hoehme, Nay, Mataré, Kricke, Mack, Piene, Uecker, Polke, Klapheck, Graubner and many others. The museum also hosts temporary exhibitions. Closed on Mondays, Thursdays and Fridays. Guided tours on request.
»
www.kunst-aus-nrw.nrw.de
Telecommunications Museum
The Telecommunications Museum in Aachen exhibits communications equipment dating back over one hundred years. All the systems on show are original and range from telephonic and telegraphic equipment, underground and above-ground cables and wires, wired or wireless devices to amplifiers with valves or transistors. The 360m² exhibition space also houses a large number of glass cases containing receivers, individual components and measuring equipment. Furthermore, there is an extensive collection of mobile telephones showing the development over several generations from the big old "bricks" to today's ubiquitous cell phone. As well as the technology of the past, historic uses for communications are also illustrated, such as information services for a range of purposes, telephone directories on microfilm, sending telegrams, fault-finding services and much more. Guided tours only (free of charge).
»
www.fernmeldemuseum-aachen.de
Top of page
Map of Germany
Map showing all of Germany's TOP travel destinations...
Click here!
Search in surrounding area