Suggested excursions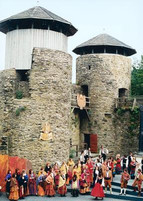 Explore the Belgian-Dutch-German border country in just five hours on the Three Nations Tour. Maastricht, a centre for Dutch art and culture, is just a stone's throw away. The tour continues to Val Dieu Abbey in Aubel, Belgium, and through the Eifel hills to romantic Kornelimünster and the quaint medieval town of Monschau. Before returning to Aachen, enjoy the wooded countryside of the Eifel region and Lake Rursee.
Monschau in the Eifel National Park
Who would ever guess that just outside the historical clothmaking town of Monschau, the wilderness beckons. A visit to the remarkable landscape of forests and lakes in the Eifel National Park is a true journey of discovery.
The Hohes Venn-Eifel German-Belgian Nature Reserve
Forests, water and hilltops stretching away into the distance are the characteristic topographical features of the Hohes Venn-Eifel nature reserve on the German-Belgian border. Located in the midst of the hilly Eifel and Ardennes regions, the park is divided into various areas by its natural features. To the north-west are the Venn foothills, while the neighbouring Hohes Venn is a high moorland area. With a total of 15 reservoirs, the park is a giant water tank.
Lake Rursee
Holding 205 million cubic metres of water, Rursee is one of the largest reservoirs in Germany. On and around the reservoir, you can indulge in practically every water sport there is. The villages of Woffelsbach and Rurberg are well worth a visit. Woffelsbach offers a range of sporting activities on Rursee, with the emphasis on sailing and boating, while Rurberg has lots of cafés and restaurants offering a variety of food and drink.
Top of page
Map of Germany
Map showing all of Germany's TOP travel destinations...
Click here!
Search in surrounding area