Nature & greenery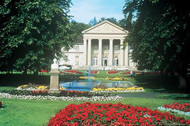 Aachen's 2,000 year spa tradition can be enjoyed in the Monheimsallee district, the hub of the city's social life, at the international casino in the New Spa Assembly Rooms, in the spa park and in the Carolus thermal baths. Burtscheid, to the south, is also a spa district. There are panoramic views over the city from the wooded Lousberg hill to the north of Aachen. The Eifel nature reserve lies to the south.
Monheimsallee Spa Gardens
Monheimsallee Park is laid out in the style of an English garden. Visitors will find an oasis of peace and tranquillity in which to walk or relax. Aachen's only "vineyard" is here, with precisely 99 vines and a rose garden with the special "Gruß aus Aachen" variety (Greetings from Aachen) .
Burtscheid Spa Gardens
Burtscheid, whose boundaries are defined by the historical churches of St. Johann and St. Michael, also has some fine spa gardens. After a long walk or a visit to the thermal baths, the Burtscheid spa garden terrace is a lovely place to meet up for a cup of coffee.
Lousberg
Lousberg, a 263 metre high hill, was once a barren mound which was used as a grazing pasture and source of sand. In 1807 the people of Aachen began to plant it. The trees there include some botanical rarities.
Top of page
Map of Germany
Map showing all of Germany's TOP travel destinations...
Click here!
Search in surrounding area