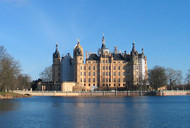 Schwerin Castle has a romantic setting on a small island. Because of its fairytale appearance it is lovingly known as the "Neuschwanstein of the North". In the neighbouring State Museum you can see an extraordinary collection of old masters and a variety of priceless exhibits from the ancient world to the modern age.
Fairytale castle and art treasures
Schwerin Castle is set idyllically on a small island in Lake Schwerin. With its profusion of glittering gold spires and gables this fairytale castle is often described as the "Neuschwanstein of the North". Built in the 19th century, its exterior combines seven different architectural styles. The State Museum in the Old Gardens houses one of the largest collections of Dutch paintings in Europe, and with its fabulous lakeside setting, forms a wonderful panorama together with Schwerin Castle, the Old Palace and the Collegiate Building.