Suggested excursions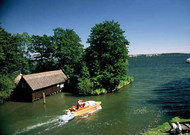 You don't need to go far from Schwerin to find lovely places to visit, because no matter which direction you turn, your route will lead you past forests and lakes. Numerous beauty spots are to be found in the unspoilt countryside beyond the main roads, as well as old manor houses, churches, palaces and parkland.
Schwerin's lakeland
Schwerin's charming lakeland region is perfect for nature lovers. Now the habitat of beavers, otters, kingfishers, cranes, red kites and the white stork, this primeval region with its small lakes and magnificent Lake Schwerin was formed long ago by meltwater after the last ice age.
Wismar
The old Hanseatic town of Wismar with its romantic maritime atmosphere is 30 kilometres away. Carefully restored town houses on the largest market square in Germany and imposing brick-built churches attract lots of visitors. Its profusion of important monuments dating back to the time of the Hanseatic League prompted UNESCO to designate the town centre a world heritage site.
Warnowtal Valley
Warnowtal Valley provides ideal conditions for sporting activities as well as recreation in the countryside. The Warnow is one of the loveliest and most unspoilt rivers in Mecklenburg-Western Pomerania. 151 kilometres in length, it is suitable for canoeing tours by families as well as keen water sports enthusiasts. Warnowtal Valley is also popular with anglers. For cyclists there is a bike trail which follows the course of the river towards Rostock.
Top of page
Map of Germany
Map showing all of Germany's TOP travel destinations...
Click here!
Search in surrounding area