Museums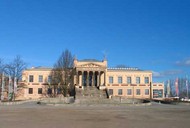 The town's numerous museums provide visitors with the opportunity to admire its artworks, look back over the history of the town and its people and to admire technical discoveries and inventions.
Schwerin State Museum
Schwerin State Museum, designed by architect Hermann Willebrandt, was built between 1877 and 1882. Located on the northern side of the Old Garden, it is the largest museum in Mecklenburg-Western Pomerania. The palace galleries in Schwerin, Güstrow and Ludwigslust are used to display its collection of important artworks. The museum's holdings consists of around 3,600 paintings, 52,000 prints, 8,000 drawings and 10,000 hand-crafted objects, including the most comprehensive collection of Meissen porcelain after Dresden. Artists such as Rubens, Rembrandt, Hals and Bruegel are represented in the collection entitled "The Golden Age of Dutch Painting", which is the largest in Germany with 550 paintings. Closed on Mondays.
»
www.museum-schwerin.de
State Archaeological Museum
The Mecklenburg-Western Pomerania State Archaeological Museum is one of the state's oldest historical museums and holds one of the most important collections of artefacts from Bronze Age northern central Europe. The museum also provides an insight into the culture and history of the Germanic and Slavic people who first inhabited the region and shows how our ancestors lived – from the Stone, Bronze and Ice Ages to the early Middle Ages. The highlight of the exhibition is the ceremonial Bronze Age cart discovered in Peckatel. Open daily.
»
www.schwerin-tourist.de
Mecklenburg Folk Museum – Muess open-air museum
Muess open-air museum is idyllically situated on the southern banks of Lake Schwerin. It is home to a number of historically significant, well preserved examples of rural architecture. Just under 20 buildings have been set up as museum exhibits on the 3.5 hectare site. There is a Low German "hall house" with farmhouse and barn, objects from shepherds' cottages, a smallholding, a garden with wild-growing herbs and domestic plants, an old village forge, a fire station, a village school with garden from around 1888 and an exhibition on freshwater fishing. Artefacts on display include arts and crafts from the Mecklenburg region, forest glass, ornate wooden boxes, tools used for handicrafts, work and everyday life, traditional costumes with accessories, and local fruit and vegetables. Open from May to October except Mondays. Guided tours on request.
»
www.schwerin.com
State Museum of Technology
The State Museum of Technology in Schwerin depicts the technological history of the federal state of Mecklenburg-Western Pomerania. Covering an area of more than 800m², the museum features a number of models and original objects that enable visitors to experience the adventure of technology close-up. The exhibition covers a number of areas, from transport, communication and household technology to generator machines including a horizontal single-piston steam engine from the turn of the last century and the six-cylinder diesel engine from the "Gorch Fock" training ship dating from 1953.Closed on Mondays, guided tours on request.
»
www.tlm-mv.de
Schwerin Castle – Museum
Set in a romantic location on a small island in Lake Schwerin, Schwerin Castle is one of Europe's foremost examples of historicist architecture. The castle museum is housed on three floors in the older buildings facing the lake. Today, in the former living and reception rooms of the Grand Duchess on the first floor, you will find a collection of 18th and 19th century art (paintings, sculpture, furniture, weapons, medals, jewellery, exquisite porcelain and other crafts) that gives an idea of interior design and arts and crafts during the historicist period. Closed on Mondays. Guided tours on request.
»
www.schloss-schwerin.de
Top of page
Map of Germany
Map showing all of Germany's TOP travel destinations...
Click here!
Search in surrounding area