Events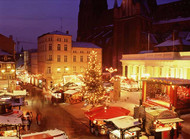 Schwerin is one of the best-known and most popular festival towns in Germany. Every year visitors are captivated by the Castle Festival staged by the Mecklenburg State Theatre in the Old Gardens against the impressive backdrop of the theatre, the museum, the castle and Lake Schwerin. Annual "Theatre under the Stars" events are held in the castle courtyard and the cathedral close.
Schweriner Museum Festival
For a whole day visitors are allowed to look behind the scenes, inspect construction work, see museum specialists at work and glimpse new rooms in the museum. Guided tours of the museum's collections, children's activities such as painting, guessing games and soap box races round off the day.
Dragon Boat Festival
Schwerin is a stronghold of dragon boat racing. The annual Schwerin Dragon Boat Festival in July attracts enthusiasts and participants from all over the world. The races are held on Pfaffenteich lake in the centre of the town where these lean, colourful boats speed through the water to the rhythm of drums cheered on by crowds of spectators.
"Mäkelborg" Christmas Market
Every year in the run-up to Christmas Schwerin is full of Yuletide cheer. Visitors to the "Mäkelborg" Christmas market stroll around the festively decorated old town where the scent of mulled wine and gingerbread fills the air. Children are especially thrilled by the giant Advent calendar that reveals a new surprise every day as each little door is opened in turn.
Top of page
Map of Germany
Map showing all of Germany's TOP travel destinations...
Click here!
Search in surrounding area