Food & drink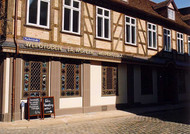 As well as scenic and cultural treats, Schwerin also has plenty of culinary delights. Home-brewed beer and traditional Mecklenburg dishes are served at the "Zum Stadtkrug" restaurant, whilst "Lukas" restaurant is perfect for fish-lovers. The "Uhle" and "Wöhler" wine taverns are steeped in history and serve high-quality food as well as being purveyors of fine wines.
Zum Stadtkrug restaurant
The only restaurant with its own microbrewery in the centre of the regional capital, it has a welcoming atmosphere and is decorated with shiny copper brewing vessels and a collection of curios. Regional specialities and light, modern dishes are served to accompany the home-brewed beer.
Restaurant Lukas
Lukas fish restaurant has been in business for almost 25 years. Close to the theatre, the museum and Schwerin Castle, it serves international delicacies as well as local fish, such as trout and Baltic plaice. The wood-panelled conservatory gives the impression of dining on board an old ship.
Traditional wine taverns in Schwerin (Wöhler and Uhle)
Uhle tavern, the oldest restaurant in Schwerin, was established in 1751. It serves fine food and has an extensive wine list. It hosts special events such as tutored wine tastings, medieval banquets and piano evenings. Wöhler tavern serving both wines and beers is another old-established restaurant in the Schelfstadt district of Schwerin. Built in 1895, the cosy tavern is also a small boutique hotel.
Top of page
Map of Germany
Map showing all of Germany's TOP travel destinations...
Click here!
Search in surrounding area