Nature & greenery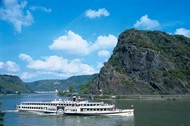 With its winding lanes leading into the narrow tributary valleys of the Rhine, Braubach is surrounded by the delightful countryside of the Upper Middle Rhine Valley. This area of outstanding natural beauty full of forests, meadows, valleys, tumbling brooks, mighty castles and sleepy little towns is a UNESCO World Heritage site.
Upper Middle Rhine Valley (UNESCO World Heritage site)
The Upper Middle Rhine Valley between Bingen, Rüdesheim and Koblenz covers the southern section of the Middle Rhine - where the Rhine carves its way through the Rhenish-Westphalian Slate Mountains - which runs for around 65 kilometres. Its profusion of prestigious architectural monuments is among the most impressive anywhere in Europe. With its vine-clad slopes, villages crowded along the narrow banks of the river and a multitude of castles on rocky outcrops, the valley epitomises the romance of the Rhine.
Boat trips on the Rhine
Besides walking and cycling, a boat ride is one of the most delightful ways to discover the picturesque Rhine Valley. Over the centuries, riverboats and ferries have become a firmly established part of life in the Upper Middle Rhine Valley. Explore the scenic and architectural beauty of this unspoilt stretch of countryside, passing castles and vineyards along the way. There are several ferry services across the river between Bingen and Rüdesheim at one end of the Upper Middle Rhine Valley and in Koblenz at the other. A number of cruise boats and pleasure steamers also stop off at various landing stages.
Hunsrück
The highland scenery of the Hunsrück region provides a stunning backdrop to the enchanting countryside along the Moselle, Nahe and Rhine rivers. Pure adventure is on offer in the gorge-like valleys leading off the River Moselle - Ehrbachklamm and Baybachtal - at the start of the Hunsrück. There are many castles and palaces from the days of the Archbishop Balduin of Trier or the Palatinate rulers just waiting to be discovered, as well as a series of romantic mills along the way.
Top of page
Map of Germany
Map showing all of Germany's TOP travel destinations...
Click here!
Search in surrounding area