Museums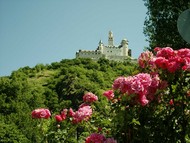 A text-book example of medieval architecture, Marksburg Castle is the only clifftop castle on the Middle Rhine never to have been destroyed. A guided tour of the castle is like taking an exciting journey back in time to the Middle Ages. Highlights include a beautifully preserved collection of armour.
Marksburg Castle
Marksburg castle and museum is a fine example of a late medieval castle that has essentially been authentically preserved. With the exception of the Romanesque main castle building, in which the offices of the German Castles Association are housed, the whole of the complex is open to the public. Most of the exhibits on display in the banqueting hall, blacksmith's workshop, wine cellar and torture chamber are original objects from the 15th to 17th centuries. The Rheinbau building houses the armoury with its remarkable collection of militaria.
Top of page
Map of Germany
Map showing all of Germany's TOP travel destinations...
Click here!
Search in surrounding area