Events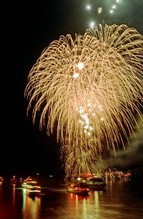 During the "Rhine in Flames" festival, an annual highlight, the riverside promenades are bathed in the festive glow of thousands of Bengali lights. This major event enjoys international acclaim, attracting around 500,000 visitors every year. The picturesque Upper Middle Rhine Valley is filled with romantic sounds during the Middle Rhine Musical Moments festival.
Middle Rhine Musical Moments
International stars, young talent and regional artists come to wow audiences at this festival. Visitors can count on a series of high-calibre concerts. All the events take place in the romantic Rhine Valley between Koblenz and Bingen.
Rhine in Flames
In addition to the amazing firework displays, the main attraction and hallmark of the Rhine in Flames festival is Europe's largest boat procession along the river between Spay and Koblenz. Around 80 boats take to the water, passing romantic villages on the Rhine, castles and palaces, all of which are lit up by Bengali lights. The procession is accompanied by eight firework displays, culminating in a fantastic grand finale display in the skies above Ehrenbreitstein Fortress in Koblenz.
Wine festivals in the region
A town's wine festival is often the most important event of the year. The streets, lanes and squares are decorated and filled with wine stalls. Parades run through the town, and princesses and queens are crowned. Wine-growing estates and wine cooperatives present their wines on various stalls. Local specialities are also served. The wine festival in Boppard attracts more than 30,000 visitors to the market square every year.
Top of page
Map of Germany
Map showing all of Germany's TOP travel destinations...
Click here!
Search in surrounding area