Suggested excursions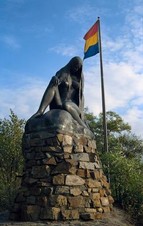 Braubach is an ideal base for exploring the astoundingly beautiful countryside of the Upper Middle Rhine Valley, characterised by quaint villages set on steep slopes, vineyard guesthouses, wine taverns and inns selling home-produced wine. The legendary Loreley rock is famous around the world. Just a stone's throw away is Koblenz, set at the famous
Deutsches Eck
(German Corner), where the Rhine and Moselle rivers meet.
Loop in the Moselle
With a 70 per cent gradient, the loop in the Moselle near Bremm has the world's steepest vineyard slopes. With a series of incredible twists and turns, the Moselle winds its way from its source in the southern Vosges mountains to the point where it flows into the Rhine at the
Deutsches Eck
(German Corner) in Koblenz.
Koblenz
Koblenz, the gateway to the Middle Rhine UNESCO World Heritage site, lies on the confluence of two famous rivers, the Rhine and the Moselle, surrounded by four upland regions. Two-thirds of the town are covered by trees, water or green spaces. Countless museums document the 2000-year history of the town. Visitors from all over the world come to admire the many sights and places of interest that Koblenz has to offer.
Loreley
Here, in the enchanting Upper Middle Rhine Valley, a UNESCO World Cultural Heritage Site where the Rhine has carved its twisting way through the Hunsrück and Taunus hills, is the famous Loreley rock. The narrowness of the valley, the untamed river waters and the mysterious echo all play their part in the myth of the Loreley, the blond siren on the rock who once lured sailors on the Rhine to their death with her beguiling song and mysterious beauty. The legend has been passed down through the ages, but it was the poem by Heinrich Heine set to the melancholy melody of Friedrich Silcher that made the Loreley famous around the world.
Top of page
Map of Germany
Map showing all of Germany's TOP travel destinations...
Click here!
Search in surrounding area