Art & culture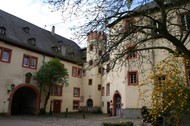 Philippsburg Castle houses the European Castles Institute with its unique library on medieval and early modern secular buildings. It contains more than 25,000 titles offering information relating to castles and palaces. Every known castle and palace in Europe is documented here in the form of plans, photos and postcards.
European Castles Institute
The European Castles Institute (EBI) is housed in the renovated Philippsburg Castle. Its unique library contains more than 25,000 books about castles and palaces. In addition, it also has a collection of castle and palace plans, a collection of graphics and photographs, and an exhibition. The institute's library and collections are the most diverse of their kind anywhere in Europe.
Top of page
Map of Germany
Map showing all of Germany's TOP travel destinations...
Click here!
Search in surrounding area