Places of interest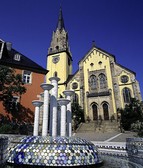 Selb is well-known as a porcelain town and this is clearly reflected in the town's most important and charming attractions. The porcelain fountain is exquisitely adorned with mosaic stones of white, gold, blue and turquoise. At Selb Town Hall the sound of 22 small porcelain bells ring out in the carillon, and the porcelain-paved
Porzellangässchen
is a true extravagance.
Porcelain fountain
The porcelain fountain in Martin Luther Platz in Selb is an attraction of extraordinary beauty. Admire the 45,000 porcelain tiles in blue, turquoise, gold and white that ornament the columns from which the water flows. The fountain is especially eye-catching when lit up at night.
Porzellangässchen
Selb's most famous landmark is the well-known
Porzellangässchen
alley, which is paved with 55,000 colourful mosaic stones lovingly hand-crafted from porcelain. Stroll along Porzellangässchen, and for a moment you feel as if you've stepped into a fairy-tale world.
Town Hall
Even the Town Hall in Selb is decorated with porcelain. The balcony is adorned with the town coat of arms made of porcelain, and parts of the interior and floors are bedecked with exquisite porcelain decorations. Made up of 22 bells, the porcelain carillon is particularly captivating, and rings out a different melody depending on the time of year.
Top of page
Map of Germany
Map showing all of Germany's TOP travel destinations...
Click here!
Search in surrounding area