Museums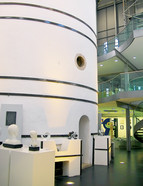 The first porcelain manufacturer to set up in the area around Selb was C. M. Hutschenreuther in 1814. The raw materials for producing porcelain – china clay and charcoal for the kilns – were found in abundance in the Fichtelgebirge mountains, and during the course of the 19th century, the area around Selb developed into a worldwide centre of the porcelain industry.
German Porcelain Museum
With around 2,000 m2 of exhibits, the German Porcelain Museum in Hohenberg an der Eger documents the history of porcelain products across the entire German-speaking world since the 18th century. Especially enticing is the Messenachlese trade fair, where twice a year porcelain producers showcase their latest design innovations.
European Industrial Museum for Porcelain
The world of porcelain manufacturing is explored by the European Industrial Museum for Porcelain in Selb-Plössberg, a branch of the German Porcelain Museum. Within its historical walls visitors can see restored and still fully-functional machines that were originally used in porcelain manufacture.
Top of page
Map of Germany
Map showing all of Germany's TOP travel destinations...
Click here!
Search in surrounding area