Nature & greenery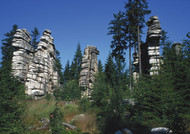 The small town of Selb nestling idyllically in the Fichtelgebirge mountains is close to the border with the Czech Republic. Nature lovers will find everything their heart desires here – from dense, swathes of forest and ancient granite rock formations, to picture-postcard lakes and romantic river valleys, while active holidaymakers are spoilt by miles and miles of well-maintained trails for walking and mountain biking.
Fichtelgebirge mountains
The Fichtelgebirge mountains have countless ways for active holidaymakers to get close to nature. Around 3,200km of marked trails lead you through extensive spruce forests, and past granite hills and rocky cliff formations. The Fichtelgebirge mountains are a paradise for climbers and mountain bikers, while walkers can experience unspoilt natural beauty at first-hand in the magnificent forests.
Hirschstein castle ruins
You can't walk up the Grosses Kornberg mountain without stopping off to see the Hirschstein castle ruins. There is a magnificent panoramic view of the region from here, and the castle was one of the oldest in the Fichtelgebirge mountains, first appearing in records in 1317. Although only ruins now remain, this secluded spot is a great place for walkers to rest their weary feet.
Lake Weissenstädt
Lake Weissenstädt is surrounded by the Schneeberg, the highest mountain in Franconia, and the Waldsteingebirge, a small range of hills. Nature lovers can enjoy this lakeside region on foot, by bike, or wearing inline skates. In summer there are lots of water sports on offer in the lake, and the neighbouring spa gardens are great for leisurely strolls.
Top of page
Map of Germany
Map showing all of Germany's TOP travel destinations...
Click here!
Search in surrounding area