Shopping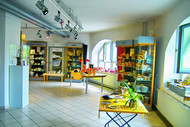 Rosenthal and Hutschenreuther, the two exclusive porcelain makers, have recently merged. They are based in the middle of the "Porcelain Route" and their porcelain workshops have distinctive façades, some designed by the renowned architect Hundertwasser. The town lives and breathes porcelain, be it through the porcelain fountain in the pedestrian precinct, the street paved with porcelain tiles, or in the porcelain museum and the workshops, shops and outlets.
Rosenthal
In the unmistakable Rosenthal logo, a crown stands proud above two crossed swords. International artists and designers such as Versace contributed to the Rosenthal Studio Line designs. The stylish workshop with the Hundertwasser façade was built by Walter Gropius and is situated in Philip Rosenthal Platz square. As well as hosting special events and porcelain painting demonstrations, you can buy discounted factory stock and get specialist advice. There is a wide range of discontinued stock (seconds quality tableware), crockery, glassware, cutlery as well as gifts and ornaments.
Hutschenreuther
The Hutschenreuther logo, which features a lion and the year 1814 when it was established, has long been synonymous with distinguished, high-quality design. Workshop demonstrations offer an insight into the art that goes into crafting the "white gold", and the Hutschenreuther Shop in the square of the same name stocks stylish and practical outlet goods from its own range as well as Arzberg products, both at discounts of up to 50%.
Top of page
Map of Germany
Map showing all of Germany's TOP travel destinations...
Click here!
Search in surrounding area