Suggested excursions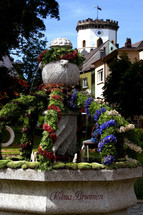 Although Selb is in the very east of Germany, its location is central enough to offer opportunities for fascinating days out. Wunsiedel with its renowned rock labyrinth on Luisenburg mountain is a popular destination. Hof is also well worth a visit with its numerous festivals and teddy bear museum, while Marktredwitz has all sorts of historical attractions to discover.
Wunsiedel
Wunsiedel is situated in a picturesque setting in the Fichtelgebirge mountains and its sights and attractions make it a fascinating place for a day out. The town's best-known landmark is the Koppetentor, a prominent arch that once formed part of the town's fortifications. In addition there is a mineral collection, 32 fountains spread right across the town, and the Museum of the Fichtelgebirge region. Back in the 18th century, even Goethe was in awe of the renowned rock labyrinth on Luisenburg mountain.
Hof
The pretty town of Hof with its impressive fašades is situated amidst the splendid scenery between the Franconian Forest and the Fichtelgebirge mountains. Attractions include the Theresienstein building in the magnificent municipal park, the botanical gardens and Lake Untreusee. The teddy bear museum in Hof is of particular interest, and numerous festivals held throughout the year ensure there is never a dull moment.
Marktredwitz
Marktredwitz, a small, lively town with a traditional town hub, is situated in the valley of the small Kössein river in the Fichtelgebirge hills. Highlights include the medieval market and the historical 14th century town hall, the Church of St. Bartholomew and the ruins of the old castle. There is a small Goethe exhibition in the new town hall's Goethe room, honouring his short stay in 1822.
Top of page
Map of Germany
Map showing all of Germany's TOP travel destinations...
Click here!
Search in surrounding area