Events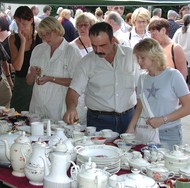 Even the calendar of events in Selb is tied up with "white gold" traditions. Porcelain really comes to the fore during the "White Gold Festival" and the "Porcelain Makers Festival", where companies such as Rosenthal and Villeroy & Boch put their finest pieces on display.
White Gold Festival
An extra-special highlight in the calendar of events in Selb is the "White Gold Festival", where locally produced porcelain, the porcelain museums and the porcelain training school are all showcased. Selb's Rosenthal Theatre is the perfect location for the multitude of carefully laid tables, artistically adorned with products from Rosenthal, Villeroy & Boch and other distinguished companies.
Porcelain makers festival
Summer in Selb has lots to offer, including the traditional "Porcelain Makers Festival", Europe's largest porcelain flea market. Visitors can expect all kinds of attractions from the world of porcelain and can even try out painting porcelain figures for themselves. What's more there is a varied programme of entertainment and other events until late in the evening, with music, children's entertainment and food tastings.
Town festival
Every June the people of Selb celebrate their beloved town festival. The festival is traditionally opened with an open-air concert by the fiddle, drum and bugle corps. A diverse programme of events with many children's attractions, provides fun and entertainment for all ages. Sustenance is provided by the many food stalls.
Top of page
Map of Germany
Map showing all of Germany's TOP travel destinations...
Click here!
Search in surrounding area