Places of interest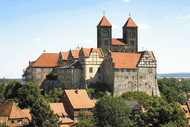 You can't go too far in Quedlinburg without stumbling upon another place of interest. Monumental and fascinating ecclesiastical buildings alternate with art nouveau structures, and timber-framed houses spanning eight centuries are dotted everywhere. Castle Hill with its collegiate church is the focus of the town's silhouette even from a distance.
Collegiate Church of St. Servatius
The three-naved collegiate church ranks as one of the most significant examples of High Romanesque church architecture in Germany. The striking capitals and friezes in the middle nave were crafted by north Italian sculptors. Heinrich I and his wife Mathilde lie buried in the crypt. The gravestones of three abbesses from the Quedlinburg seminary dating from the 11th to the 13th century are of particular importance in terms of the history of art. A treasure vault containing the cathedral treasures is found in a small room in the north transept. The splendour of the Ottonian imperial dynasty can still be seen in what is one of the most valuable collections of church treasures from the Middle Ages.
St. Wiperti Church
The Romanesque Church of St. Wiperti with its renowned crypt is situated southwest of Castle Hill. The chancel and the circular crypt, its walls adorned with mushroom-shaped Ottonian capitals and alcoves, remain from the original 10th century structure.
Market square and town hall
The early-Gothic town hall dominates the surrounding market place with houses from the 17th and 18th centuries. Above its 17th century Renaissance arch looms the Quedlinburg coat of arms resplendent with the imperial eagle, the emblem of the town and the dog "Quedel", a symbol of loyalty and vigilance. To the left of this is the stone figure of Roland. The statue bears testament to Quedlinburg joining the Hanseatic League and symbolises freedom of trade. It was destroyed in 1477 and later rebuilt in 1869.
Top of page
Map of Germany
Map showing all of Germany's TOP travel destinations...
Click here!
Search in surrounding area