Nature & greenery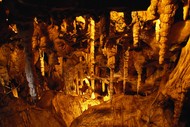 The unspoilt beauty of the Harz with mountains and lakes, caves and ravines is right on your doorstop here. Its highlights include the fabled mountain wilderness of the Upper Harz National Park and the wild and romantic rocky gorge in the Bode Valley. On Walpurgis Night on the first of May, witches convene on Mount Brocken, the region's highest peak.
Harz National Park (Saxony-Anhalt)
Fog, storms and sunshine, drama and tranquillity – all these can be experienced on a walk in the second-largest forest national park in Germany. More than 200km of clearly marked footpaths enable visitors to explore the area around Mount Brocken, at 1,142 metres northern Germany's highest mountain. Its peak is almost bare rock, but it is often only visible in outline; for around 300 days a year, the top of the mountain is shrouded in mist. This remarkable natural spectacle gave rise to the legend that witches live on Mount Brocken, a tale that is celebrated every year with a witches' dance on Walpurgis Night.
Bode Valley
With its 250 metre high granite walls, the rock ravine of the legendary Bode Valley (nature conservation area) ranks as one of the most impressive rock valleys north of the Alps. Walks through this wild and romantic valley have provided inspiration for poets such as Fontane, Goethe and Eichendorff. Attractions include the
Hexentanzplatz
(witches' dance site), ancient grounds where Old Germanic and Teutonic rituals were held. Also well worth visiting is the Walpurgis hall, a log cabin built in 1901 in Old German style by the architect Bernhard Sehring, and the
Rosstrappe
rock plateau with the mysterious hoof mark of a giant horse.
Rübeland dripstone caves
Dripstone caves are found everywhere in the Harz. Two of the most stunning caves, the Baumannshöhle and the Hermannshöhle, date back to the Neolithic Age, and are found in Rübeland in the midst of the romantic Bode Valley. The Baumannshöhle cave is unique because of its Goethe cavern (over 240 m2), which regularly plays host to events such as the Rübeland Cave Festival, while the stalactites and stalagmites in the
Festsaal
cavern in the Hermannshöhle are particularly impressive.
Top of page
Map of Germany
Map showing all of Germany's TOP travel destinations...
Click here!
Search in surrounding area