Places of interest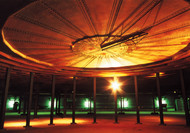 Oberhausen has a number of attractions that you would not necessarily associate with a town in the industrial Ruhr region. The gasometer, the town's disused gas tower, is now Europe's most unusual exhibition hall. The Altmarkt is a historical square in the heart of the town, while the idyllic Christmas market casts a romantic glow over the CentrO during the festive season.
Oberhausen Gasometer
Oberhausen's gasometer in the grounds of the CentrO shopping and leisure complex was built in 1929. Today, it is the town's most famous landmark and one of the most unusual exhibition halls in the whole of Europe. With its unique acoustics featuring seven or eight echoes, shiny black walls with a matt silk finish and a glass panorama lift that takes you up to a viewing platform, the gasometer attracts more than two million visitors every year.
Altmarkt
The beautiful Altmarkt (old market) lies in the heart of Oberhausen's old town centre. Framed by the neo-Gothic Church of the Sacred Heart and a number of historical buildings, it provides a wonderful setting for the town's market. Open every day from Monday to Saturday, the market offers all types of culinary specialities.
Christmas Market in the CentrO
The CentrO in Oberhausen is a place where childhood dreams come true. Every year during the festive season, the Christmas Market in the shopping centre enchants visitors of all ages for six weeks. The air is filled with the aroma of roasted almonds,
glühwein
and
bratwurst
, and the glow from thousands of lights is reflected in the countless Christmas tree baubles. Visitors can browse among the lovingly decorated wooden huts offering all types of craftwork and sample the tasty treats on offer.
Top of page
Map of Germany
Map showing all of Germany's TOP travel destinations...
Click here!
Search in surrounding area