Shopping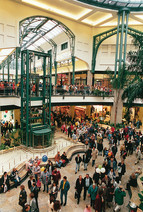 Visitors are flocking to the "New Centre" of Oberhausen, a disused steelworks in the middle of town. At its heart is Europe's largest shopping complex - the CentrO - with more than 200 shops and a wide range of cafés and restaurants. The town's "Old Centre" has a traditional pedestrian area and the Marktstrasse shopping street, which is almost 1.5 kilometres long.
"New Centre" - CentrO
Spectacular architecture, light and airy arcades, elegant marble and a wealth of brass features help to create the pleasant atmosphere at Europe's largest shopping and leisure complex. Covering an area of almost 100 hectares, it has more than 200 shops.
"Old Centre"
Oberhausen was an extremely wealthy town at the beginning of the 20th century and many impressive buildings remain from this period. There are more than 300 shops, restaurants, bars, ice-cream parlours and stalls in the town centre. You can visit the elegant boutiques on Langemarkstrasse, browse through the wide range of goods on offer on Marktstrasse, or simply relax and enjoy a
latte macchiato
on Elsässer Strasse.
Top of page
Map of Germany
Map showing all of Germany's TOP travel destinations...
Click here!
Search in surrounding area