Food & drink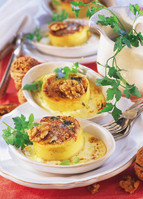 The Ruhr region for gourmets. In Oberhausen, and the CentrO in particular, there are countless restaurants catering for every taste. However, the three most notable are the Frintrop, Hackbarth's and Efendy.
Frintrop Restaurant
Situated in a quaint listed building, the Frintrop is a true gourmet's paradise. In the front part of the restaurant, guests can enjoy a range of hearty home-cooked food in a period setting. In the more elegant rear section, the menu features more creative gourmet cuisine that has been prepared using as much regional produce as possible.
Hackbarth's Restaurant
Hackbarth's Restaurant - close to the CentrO in Oberhausen - combines sophisticated, unusual cuisine with a relaxed atmosphere, and is very popular with younger clientele. The sumptuous bistro-style food is complemented by a selection of fine wines.
Efendy Restaurant
Enjoy an Arabian Nights experience at the inspired oriental-style Efendy restaurant in the CentrO in Oberhausen. With its charming atmosphere, extraordinary oriental hospitality, attention to detail in the interior design and a remarkable oriental programme of entertainment, the Efendy offers a truly memorable dining experience with a fusion of everything from Turkish to Persian, Moroccan and Arabian cooking.
Top of page
Map of Germany
Map showing all of Germany's TOP travel destinations...
Click here!
Search in surrounding area