Art & culture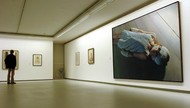 The town and the railway station, built in 1846, both derive their names from the neo-classical Oberhausen Palace. Today, the palace houses the Ludwig Gallery, the Gallery of Popular Art and a memorial hall where the resistance and persecution suffered during the Third Reich is remembered.
Ludwig Gallery
Built at the beginning of the 19th century, Oberhausen Palace provides the perfect setting for the Ludwig Gallery, where visitors can admire ancient and modern art covering various periods and cultures in the "Museum auf Zeit". The Gallery of Popular Art has a number of applied art and media-based exhibits.
Top of page
Map of Germany
Map showing all of Germany's TOP travel destinations...
Click here!
Search in surrounding area