Suggested excursions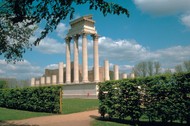 With its dense concentration of towns and cities, the Ruhr area has endless possibilities for day trips and excursions. In the Roman town of Xanten, for example, you can step back in time to the 2nd century. In Mülheim an der Ruhr everything revolves around water and its importance to industrial development. Closer by is the CentrOpark - a theme park offering guaranteed fun for all the family.
CentrOpark
Part of the CentrO shopping mall, the CentrOpark is a delightful blend of country park and theme park. The highlight for children is children's character Benjamin Blümchen, who tirelessly roams the park all day long so you can have your picture taken with him. For the more daring visitor, there's the Speedy roller coaster, a pirate ship ride, a huge adventure playground and many other attractions.
Xanten
You can trace the history of the ancient Romans in Xanten on the Lower Rhine. The former settlement achieved town status in around 100 AD. The town's residents constructed paved roads with sewers, town walls, a forum, a temple, thermal baths and an amphitheatre - all out of solid stone. At the Archaeological Park in Xanten the ancient Roman town of Colonia Ulpia Traiana has been largely reconstructed.
Mülheim an der Ruhr
Mülheim an der Ruhr is famous for the mills that used to stand along the banks of the river Ruhr. In the 18th century, Mülheim was a centre for shipping on the Ruhr, for the coal trade and for the leather industry. Visitors to Kirchhügel hill in the old quarter can get a real sense of the past at St. Peter's Church, which is more than 700 years old, and at the local history museum.
Top of page
Map of Germany
Map showing all of Germany's TOP travel destinations...
Click here!
Search in surrounding area