Places of interest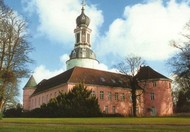 Jever - a town famous for its dry Frisian beer - has a wealth of visitor attractions. The East Frisian town's famous landmarks include Jever Castle, the blue printing workshop and, of course, the brewery.
Jever Castle
Jever Castle is probably the most famous attraction in this East Frisian town. The large four-winged castle was originally built as a fortification in the 14th century. When the fortress was extended, Maria von Jever had the exquisite oak-carved coffered ceiling fitted in the audience chamber. In the summer months, visitors can climb up the 67-metre-high castle tower and enjoy spectacular views of the Frisian coast from the observation platform.
Blue printing workshop
The blue printing workshop is one of Jever's most special attractions. This traditional handicraft is being brought back to life in an old warehouse dating from 1822. Visitors can watch as the craftsman uses around 400 different printing blocks from centuries gone by to print historical patterns onto various types of fabric.
Brewery
Jever is famous for the beer of the same name - the dry Frisian pils that has been brewed here since 1848. At 32 metres high, the highly polished towers of the brewery dominate the town's skyline with their futuristic design. Visitors are invited to take a glimpse behind the scenes to see how this traditional beer is brewed.
Top of page
Map of Germany
Map showing all of Germany's TOP travel destinations...
Click here!
Search in surrounding area