Shopping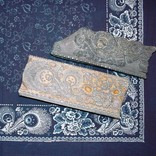 In the winding lanes of Jever's old quarter and the pedestrian area, you can browse the wide-ranging selection of goods on offer, such as the blue printed articles that are typical of the region. There are a number of cafés where you can relax and enjoy a glass of refreshingly dry Jever beer, which is brewed at the town's famous Frisian brewery.
Pedestrian area
The sales assistants in the shops and boutiques here are refreshingly friendly and helpful. Traditional regional products on offer include East Frisian tea, which is popular throughout the region and does not take up much room in your luggage! There are also plenty of maritime attractions, as Jever is only 15km from the North Sea coast.
Blue printing workshop in Kattrepel
The blue printing workshop in Kattrepel demonstrates the ancient art of printing onto fabric using wooden blocks to make the traditional blue and white striped Frisian shirts, as well as scarves, tablecloths and serviettes. The patterns from the wooden blocks can be printed onto porcelain, also on sale here.
Jever's Frisian brewery and brewery museum
At 32 metres high, the highly polished towers of the brewery have long been a famous landmark in the town. Jever's Frisian brewery still uses traditional brewing techniques and has been producing its famous hop-rich dry Frisian beer here since 1848. A guided tour of the museum and brewery takes around two hours and is rounded off with a visit to the Jever shop.
Top of page
Map of Germany
Map showing all of Germany's TOP travel destinations...
Click here!
Search in surrounding area