Suggested excursions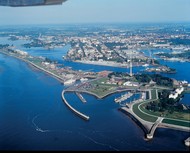 Situated in the heart of East Friesland, Jever is an ideal base for excursions into the surrounding area. There are some great days out to be had at romantic marshland towns along the coast, fine sandy beaches, fascinating coastal mudflats and the East Frisian islands.
Wilhelmshaven
Wilhelmshaven is the largest naval base and the only deep-sea port in Germany. The main attractions in this town on Jadebusen bay are the Seawater Aquarium, the national park's Mudflats Centre, the German Naval Museum and the Oceanis centre, Germany's only underwater research station. Other firm favourites include "Grosse Hafen" port with its museum ships, the Weser lightship "Norderney" and the old buoy tender "Kapitän Meyer".
Wittmund
Wittmund is a quiet town known for its red clinker brick houses and typical East Frisian charm. Fishing boats, windmills and yellow rape fields complete the town's picture-postcard image. In the pedestrian area you will find a number of romantic brick buildings, while the town's Schlosspark is an island of tranquillity. Wittmund also has a number of museums and interesting events.
Carolinensiel
This unique resort on the North Sea coast has no less than three harbours. The old harbour, also known as the museum harbour, is situated in the town centre. The second-largest marshland and commercial port in East Friesland, the harbour was very important for shipping in its heyday during the 18th and 19th centuries. Today, it is the venue for a number of festivals and events. Harle promenade leads down to the town's marina, while the dike at Sieltor gate takes you to Carolinensiel's outer harbour.
Top of page
Map of Germany
Map showing all of Germany's TOP travel destinations...
Click here!
Search in surrounding area