Places of interest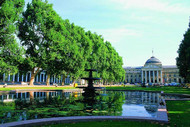 Wiesbaden's focal point and main landmarks are the spa assembly rooms and elegant casino, built in 1907 under the aegis of Kaiser Wilhelm II. Other highlights are the Hessian State Theatre, the historical old quarter with the palace, the old and the new town hall and the neo-Gothic Market Church, as well as baroque Biebrich Palace on the banks of the Rhine and Neroberg hill with its Russian Church.
Wiesbaden spa assembly rooms and park
Wiesbaden spa assembly rooms, an imposing building with a massive portico of Ionic columns, is a venue for national and international congresses, conferences, exhibitions and cultural events. The casino is located in the former wine hall with its neo-classical interior. Next to it, the spa colonnade (1827), 130 metres in length, is regarded as the longest columned hall in Europe. The English-style spa gardens extend behind the spa assembly rooms.
Historical old quarter
Narrow winding streets lined with 18th and 19th century buildings run through Wiesbaden's old quarter. Bäckerbrunnen fountain on Grabenstrasse is now a popular meeting place. The oldest structure in Wiesbaden is the
Heidensmauer
, or Heathens' Wall, which is close to the Roman gate. 15 different springs flow into the Kochbrunnen drinking fountain and in the 19th century it was the main location in Wiesbaden for taking the waters.
Market Church
The Protestant Market Church was built in 1852-1862 by Karl Boos in the form of a neo-Gothic, triple-naved basilica. The west tower is 92 metres high, making it the highest building in the city. The church was the first all-brick building in the Duchy of Nassau. In front of the church, a statue commemorates William of Orange ("The Silent", 1533-1584).
Top of page
Map of Germany
Map showing all of Germany's TOP travel destinations...
Click here!
Search in surrounding area