Shopping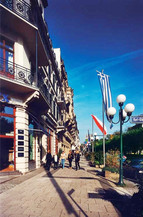 For exclusive and luxury goods, head for elegant Wilhelmstrasse. Taunusstrasse has mainly antique shops but is also excellent for art and design. The romantic passageways in the old quarter are full of shops offering curiosities, the nostalgic and the unusual, and the traditional market has an excellent choice of fresh farm produce.
Wilhelmstrasse
Wilhelmstrasse is Wiesbaden's grand boulevard offering expensive, high-quality products, such as
haute couture
, jewellery, accessories for the home and many international designer brands, in fact everything the heart could desire.
Wiesbaden Mitte
Wiesbaden Mitte, the central district of Wiesbaden, is its fourth largest borough with a perfect balance of places to live, study, work, relax and shop. The irresistible, exclusive ranges stocked by the department stores and specialist shops in the pedestrianised area and other shopping streets are the ideal setting for some "retail therapy".
Taunusstrasse
Taunusstrasse is part of Wiesbaden's antiques quarter where countless out-of-the-ordinary antique shops are located.
Top of page
Map of Germany
Map showing all of Germany's TOP travel destinations...
Click here!
Search in surrounding area