Museums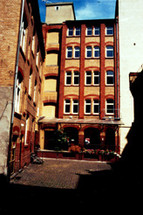 Wiesbaden's amazing range of museums includes the Laughter Museum (
Harlekinäum
), the Women's Museum and the Museum of German Television History.
The Harlekinäum (Laughter Museum)
Wiesbaden's Harlekinäum is a 'Museum of Laughter', featuring oddball exhibits from all over the world. It's an ideal day out for anyone who fancies having their funny bone tickled. Explore the world of comedy and the surreal across eight fun-packed rooms. You can even take a guided tour with a difference, courtesy of the museum's "clown doctors". And it's the only place we know of where you have to pay for a ticket to get out! Open every Sunday from 11.11am to 17.17pm (!) from April to the end of August.
»
Further information
Women's Museum
The Women's Museum in Wiesbaden – an internationally renowned institution - was founded in 1984 with the aim of depicting the achievements of women in history, society and culture in order to highlight values that women and girls can identify with. The permanent exhibition is entitled "FrauenStadtGeschichte(n)" (WomenCityHistorie(s)) and focuses on the lives of various women, each of whom left their own particular mark on Wiesbaden during their lifetimes. It honours feminine aspects and names from history that, because of unspoken patriarchal laws, have long been forgotten. The museum also hosts temporary exhibition by artists from around the world as well as a number of events. Open on Wednesday, Thursday and Sunday, guided tours on request.
»
www.frauenmuseum-wiesbaden.de
Wiesbaden Museum
Wiesbaden Museum has won international acclaim for its art gallery, natural history collection and exhibition of medieval and Roman artefacts. The museum owns one of the finest collections of works by the artist Alexej von Jawlensky (1864-1941), who lived in Wiesbaden from 1921 until his death. Its natural history collection focuses on the geology of Europe, as well as the habitats found in tropical rainforests, savannahs, deserts and the Arctic. An exhibition of local artefacts from Roman times and the early Middle Ages form the basis of the Nassau collection. Closed on Mondays (except public holidays), 1 January, 1 May, 24, 25 and 25 December. Guided tours available.
»
www.museum-wiesbaden.de
Natural History Collection
With an exhibition area of 800m², the Regional Natural History Collection in Wiesbaden is one of the largest of its kind in Germany. Featuring exhibits from the world of zoology, botany, geology, mineralogy, palaeontology and ethnography, the collections have been looked after and developed by museum staff since 1829. One of the museum's true gems is the insect collection of Johann Christian Gerning, in particular the butterflies. Guided tours available.
»
www.nws-wiesbaden.de
Interactive museum at Freudenberg Mansion
Opened in 1993, the interactive museum at Freudenberg Mansion in Wiesbaden takes visitors on a fascinating journey of discovery to explore the senses at more than 50 different experimental stations. Visitors learn to appreciate new impressions by trying out a variety of activities relating to hearing, vision and movement. Inside the mansion, visitors experience sounds, tones, aromas, darkness, light and much more from a completely different perspective and with a new, holistic feeling. A barefoot trail gives feet that are used to wearing shoes the opportunity to experience a completely new set of sensations. Visitors can also follow a stony labyrinth, explore vibrations, paint with sound and much more besides. Closed on Mondays and at Christmas/New Year, guided tours available.
»
www.schlossfreudenberg.de
Top of page
Map of Germany
Map showing all of Germany's TOP travel destinations...
Click here!
Search in surrounding area