Places of interest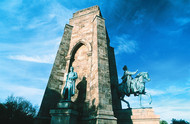 Westphalia Stadium, home of the Borussia Dortmund football club and its thousands of fans. A perfect blend of thrills and relaxation: the pretty woods and parkland around Hohensyburg castle with panoramic views across the Ruhr and Lennetal valleys from the Kaiser Wilhelm monument, and the Hohensyburg casino. The four churches in the city centre are reminders that Dortmund has a history stretching back more than 1,000 years.
Westphalia Stadium
The Westphalia Stadium is one of the most exciting "temples to football" in the world with up to 83,000 fans packing the ground for Bundesliga matches. Borussia also has Europe's biggest football terrace, with space for 25,000 fans. BorussiaPark, the new world of discovery in the north stand, is home to the BVB Museum.
Hohensyburg Casino
Hohensyburg Casino is for those who fancy a flutter. Every year more than a million people try their luck here at Germany's most money-spinning casino. Everything revolves around playing: even the architecture reflects the theme. The casino has three floors and offers everything from classic casino games to "Las Vegas World" and a slot machine hall.
The four city churches
They are home to many a treasure. In St. Peter's Church, for example, the "Golden Wonder of Dortmund" tells the story of the Passion, with 30 reliefs and 633 oak-carved, gilded figures. In St. Mary's Church, the focal point is the altar by Dortmund's Master Conrad von Soest featuring one of the most beautiful paintings of the Middle Ages. Anyone climbing the 207 steps of the bell tower at St. Reinhold's Church is rewarded with fabulous views. In the Propstei Church, the one Catholic church in the city centre, the high altar's panel painting is a masterpiece by Derick Baegert.
Top of page
Map of Germany
Map showing all of Germany's TOP travel destinations...
Click here!
Search in surrounding area