Shopping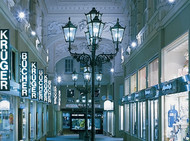 Westenhellweg is the hottest tip for shoppers in the Ruhr area. Like Ostenhellweg, it is an old trade route that runs through the heart of the city. Head for Hansastrasse for luxury clothes and leather goods, and to find the latest creations from catwalks around the world. The Brückstrasse area has good shops for the younger crowd.
Westenhellweg
Westenhellweg is a busy, attractive shopping street with a long history. It was one of the most famous European military and trading routes dating back to the time of King Charlemagne.
Propstei Arcades
Head south, towards the opera house, from Westenhellweg and you soon come to the Propstei shopping mall. This new arcade is home to a number of shops, mostly up-market designer clothing stores.
Contrasts: Kleppingstrasse – Brückstrasse
The shops in Kleppingstrasse favour understatement and sophistication, specialising in fashion, eyewear and accessories. One shopping street - Brückstrasse - that had been rather overlooked for some time, has smartened itself up, giving the quarter a new image. The "Rue de Pommes Frites", as it was known locally, has transformed itself into a modern, youthful series of shops. Trendy hairdressing salons now sit next to sportswear boutiques and specialist shops selling things you just know must have come from Brückstrasse.
Top of page
Map of Germany
Map showing all of Germany's TOP travel destinations...
Click here!
Search in surrounding area