Nature & greenery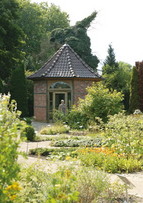 In Celle you are always close to nature. Nearby are the upper Aller valley conservation area and the Fuhse marsh recreation area, also of ecological importance - both offer excellent opportunities for lengthy walks in unspoilt natural surroundings. Many of the old trees in and around the town are protected by preservation orders. Celle's municipal parks and gardens are also delightful places to relax.
Upper Aller valley conservation area
A stone's throw from the old quarter is the upper Aller valley conservation area with its meadows along the river Aller and the mouth of the river Lachte. The Aller valley has delightful scenery and is also a habitat for several rare plants and animals, including some endangered birds and over 20 species of dragonfly.
French garden
The French garden was originally laid out at the end of the 17th century. It was restyled several times before Malortie, the Hannover court's senior official, had it transformed into an English landscape garden in the mid-19th century to designs by Schaumburg, the inspector of gardens. Today the French garden is a designated horticultural monument.
Medicinal plant garden
Celle's medicinal plant garden is one of the largest in Europe. Visitors can see - and smell - plants that feature in the history of popular medicine as well as medicinal plants still in use today. The garden also has an area with an orchard and other themed beds.
Top of page
Map of Germany
Map showing all of Germany's TOP travel destinations...
Click here!
Search in surrounding area