Museums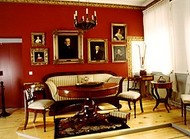 Celle's many museums bring history to life. The Bomann Museum illustrates the cultural heritage of the town and the region. The Garrison Museum features military history. The synagogue has special exhibitions about Jewish history and religion. 25 kilometres away at Lohheide, the Bergen-Belsen Memorial ensures that Nazi atrocities will never be forgotten.
Bomann Museum
The Bomann Museum (5,500m²) is one of Lower Saxony's most important museums. Its collections depict the cultural heritage of eastern Lower Saxony, the history of Celle and the history of the Hannover region.
German Sampler Museum
The exhibition at the Palais im Prinzengarten features delightful private collections of embroidered samplers. On display are around 2,000 items spanning four centuries - samplers, embroidered dowry pieces, books, hand-coloured embroidery designs and other embroidered treasures.
Bergen-Belsen Memorial, Lohheide
The concentration camp memorial at Lohheide, 25 kilometres from Celle, movingly recalls one of the darkest chapters in German history. The extensive graveyards and memorials on the site surrounding the documentation centre convey the horrors of the concentration camp. Anne Frank is buried here.
Top of page
Map of Germany
Map showing all of Germany's TOP travel destinations...
Click here!
Search in surrounding area